A city half hidden from the sun's light, forever lit up by the lights employed by it's strange crystalline technology, Kadesh is far more than a city, it's a nation.
Founding
Many years ago a group of Elf and Half-Elf sailors were marooned on an island. They entered a cave for shelter and were magically transported to another world. There the group looked to Kyle Katan, their Elf Captain, as their leader. He accepted the role and began organizing the group.
While foraging for supplies, an Elf brought back to Kyle a crystal. Filled with latent energies, Kyle saw their potential and over time learned how to harness their power. Since none in the group knew any magic of any kind, these Krystals were the only source of any supernatural power. Over many generations they learned how to use them to do wonders that would require the most powerful of magic back in their home world. From military use, to civilian,the crystals were world-changing to these elves [think of the benefit electricity has in our world, and then you have an idea how these crystals changed their society].
Over the years the people began to repopulate, and made a home for themselves in this world. This became a problem because this new world had very little land and they were quickly filling it up. After sending many adventurers to map the world, Kyle learned that most of this world was water. This caused Kyle to have several great engineering feats to be accomplished. One was a platform raised in the air that allowed another city to be built on top of the city below.
The City
Quickly the city, dubbed as upper Kadesh, became home to the more influential and wealthy of the people. The second feat was an automated vehicle to transport people, acting as mass transit and cargo transportation. This allowed people to go to and fro in the sprawling city to which they were bound quickly. The third great engineering feat, as intriguing as it was controversial, was a reproduction suppression field (R.S.F.) generator. Kyle put this in place to stop procreation as there was no more room for expansion. Kyle made this decision with a heavy heart, but felt that it was the only way to save the people that were here.
Though some held grudges, most accepted this new fate until Kyle had a child. With the R.S.F. active he fathered a daughter. At this all the rumors and suspicions that the people of upper Kadesh received special treatment seemed to be validated. This broadened the gap between Upper Kadesh and Lower Kadesh, essentially creating two separate people groups. Ever since then Kyle began a massive PR campaign explaining that the pregnancy was a freak accident and not intentional. Kyle's wife died giving birth to the child, who was born non-neural typical. While this seemed to validate Katan's story, it took an entire pregnancy for this to occur and during that time the people thought him a liar and there was unrest. Kyle tightened security, restricting access to Upper Kadesh. To get work many had to travel to Upper Kadesh, but to travel to Upper Kadesh people needed work papers. This made those who didn't already have jobs, essentially stranded in the slowly degrading lower Kadesh. Someone receiving their work papers is celebrated akin to a graduation or bar mitzvah.
Government
Kyle is the president, and a very large group of politicians known as the Sanhedrin make up the ruling body of Kadesh.
Life in the City
While police are abundant, lower Kadesh receives far less priority. This has allowed many nefarious individuals a great opportunity to do business and as such lower Kadesh has become a place of vices. Lower Kadesh is similar to any major metropolis - some areas are squalor, some centered towards night life, and others less sketchy. All of lower Kadesh's businesses are geared towards the lower to middle class, most crime syndicates do their work and recruitment in lower Kadesh. Conversely, upper Kadesh houses most company buildings, and their clubs and stores are aimed towards an upper class.
People have lost all hope of returning to their home world, as since none of original group knew magic, no one in this world knows magic. They are reliant upon the technology they made for themselves, and undoubtedly their inability to focus on any sort of magical progression fed their technological progress.
This is a very small divine presence. No deity is the primary focus of worship, and religion has a less than average impact on the culture, and there is not enough connection to provide any divine casting.
Food is sourced from an algae that grows on the vast seabed. It's harvested and turned into edible paste-like bars. This is the only source of food, is plentiful, and has barely any taste. People have been able to work with the algae to imitate many of the food they had back in the homeworld. Certain narcotics have been created by combining this algae with the crystals, most notably the drug Arc Rez.
Krystals are harvested via mines that tunnel into the earth, almost all now started out at sea. Raw materials are sourced from the huge number of meteoroids that line the ocean floor, and still occasionally fall to the planet.
Forced Evolution
The only races in this world were Elf and Half-Elf, as that was the only races that were on the boat that the founders came on. After the city was built and a new generation came about, and before the R.S.F. was built, people began to become discontent with their heredity. With their many technological advances people were able to alter their DNA to show traits of their lesser evolved kin, namely animals. These people, called anthropomorphs, resemble the animal-like races of their home world such as the Catfolk, Tengu, and the like. Two generations were birthed after this advance meaning that there are now actually more people born into their 'animal' race than chose it voluntarily.
There is more non-anthros than anthros, but only by a small margin. The result of a elf or half-elf procreating with an anthro is a anthro of the same heredity as the parent anthro. The life spans of all anthros, no matter their specific race, is the same as a half-elf. It is said that if there has only been elves in the heredity of an anthro that his life span is slightly longer, but this has not been proven as chances are at some point in your heritage there was a half-elf involved. While there are no more anthros being bore due to the R.S.F. generator, people can still volunteer to become an anthro. However once chosen, there is no known way to reverse the process.
Timeline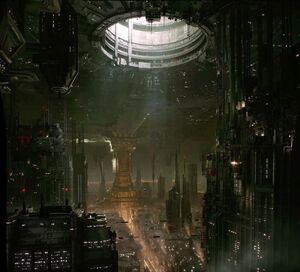 0 - Crew maroons
100 - All land is covered in city
110 - Construction of Upper Kadesh begins
125 - Last founding half-elf dies
200 - Upper Kadesh completed
225 - Anthro technology created
290 - R.S.F. Generator activated
340 - Kyle Katan's daughter is born
350 - Present
Season 0
During Season 0 the party retrieved the comb from Kyle, destroyed the R.S.F. generator, and killed Kyle Katan. Katan's death and the R.S.F. generator's destruction are being retconned, everything else that took place is still cannon. This means that unknown to the party they actually were traveling between space and time when they went to and from Kadesh.